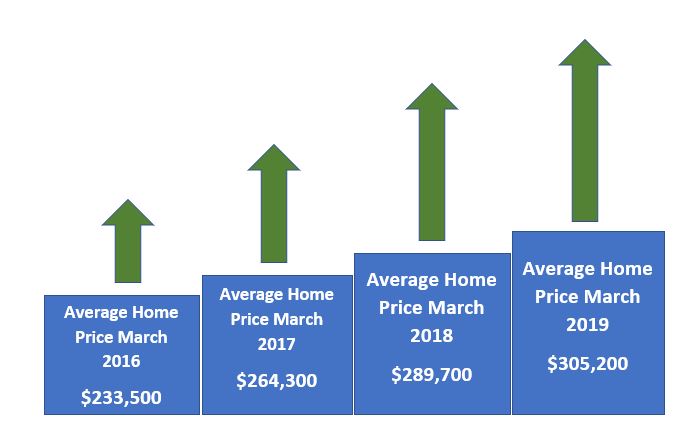 Many people ask me if housing prices are going to keep going up. Well, the best way to answer that is with facts and actual data.
Let's take a historical approach to understanding our housing market looking at comparable months year over year.
In March of 2016 the average home price for a single-family house was $233,500 compared with the average single-family home price in March 2017 at $264,300, an increase of $31,000 dollars in just one year.
Looking at the 2016 housing market as a whole:

In 2017, we saw again, an upwards trend in home appreciation. Our market has a robust economy driven by both private sector and government backed jobs, strong agricultural production, and a booming wine industry, all of which attracts more and more people to the Tri-Cities.
Our area is bringing people from across the country who are looking to retire in a mild climate, an area with good medical care, and low housing prices (when compared to other states, like California or New York.)
According to the Tri-Cities Herald, the Mid-Columbia headcount topped 290,000 in 2017, according to a fresh population estimate released this week by the U.S. Census Bureau.
At the present rate of growth, the region will reach the 300,000 mark sometime in the coming year.
Already, Pasco is planning for an estimated 50,000 newcomers in the coming years with a plan development for the hundreds of acres to the west of the Broadmoor Boulevard, AKA Road 100.

If you are wondering how 2018 preformed overall, look at the numbers, they speak for themselves:
The home rate of home appreciation has been great for home owners, but brutal for first-time home buyers who struggle to compete with extremely low levels of entry level homes available for purchase.


Many buyers feel pushed out of the market, but with a dedicated real estate agent and an aggressive plan and strategy many first-time buyers are moving from the dream of owning a home to becoming home owners themselves.
Curious how 2019 is stacking up to the previous 3 years.


The real question many people who are considering becoming first-time home buyers should be asking themselves is can they afford to wait?
If you are someone you know is a first-time home buyer, do not get discouraged, instead get smart. Home buyer education is an essential step in the process of becoming a home owner.